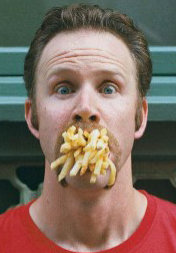 Two new McDonald's-funded restaurants in Japan opened up in November in Omotesando and Shibuya in Tokyo prefecture. Named Quarter Pounder, they decided to take a different approach to their now well known style.
The web site for the new McDonald's advertising campaign in Japan begins with a simple phrase "To those that eat hamburgers – have you been?" All of the typical McDonald's signs that we are used to aren't there: there is no golden arch, no clown, no red and yellow theme, no advertising on the packaging. There is only one simple theme that's carried out: minimalism.
The menu at a typical McDonald's in the U.S. contains more items then anyone would wish to count, but at the Quarter Pounder, there's only two. The anxiety-driven game of scanning the board and deciding on the meal while customers behind you are waiting has been eliminated altogether. Now if you can't decide, you can flip a coin between either the double quarter pounder with cheese (about $6.30) or the regular quarter pounder with cheese (about $5.23), both of which come with fries and a drink. That's it.
The storefront doesn't resemble anything McDonald's usually puts out at all. Black and red are the main color theme and the inside of the place looks more like a night club.
It's more of a viral campaign than anything else. It relies on the vagueness of the web site, simple menu and word of mouth. Of course, like anything new and sheik, lines were formed for the grand opening. No telling how successful McDonald's will be with this new campaign in Japan but with the minimalistic approach they've taken one thing's for sure, this experiment didn't cost them much.